Most of us often have a habit of taking multiple shots in the same pose or of the same scenery just to make sure that we get the best picture. And till we get multiple warnings of 'memory full,' we do not bother to clear the duplicate photos either. At that point, duplicate photos seem to haunt us as they keep on piling up in our device. Thus, a duplicate photo finder can be the fastest and the best solution in such situations.
Finding and selecting photos manually to delete them, is a really annoying and time-consuming task. But what if you have a duplicate photodetector and remover tool? It can automatically find and remove all the duplicate files in the system!
Here are some popular duplicate photos finding software that can help you clean up the clutter that causes your PC to slow down. Also, the adverse effects due to high memory consumption can be coped up with.
1) Similar Photo Cleaner
Similar Photo Cleaner is one of the best options when it comes to detecting duplicate photos and cleaning them. This software is the right option for both neophytes as well as professional photographers. It helps keep the files organized and the library free from duplicate photos.
Though being highly efficient and powerful, it is quite simple to use and operate. It quickly detects duplicate photos to prevent users from running out of space.
The software is compatible with both Mac OS as well as Windows. Also, it supports image formats like JPG, BMP, HDR, TIFF, PNG, etc.
Moreover, the interface is well-designed and user-friendly. Also, there are tutorials for easy learning.
Features:
Fast
Accurate
Multiple selection
Efficient
Auto Mark Files helps keep the best shots
Several search filters
Supports external devices
Easy to manage
2) Easy Duplicate Finder
As the name suggests, this software is an easily manageable duplicate photo finder. However, it does not compromise with the effectiveness of the solution. All that users need to do is click on the 'start scan' option. The software automatically does the rest of the task. It sorts the duplicate files into groups so that it becomes easy to handle.
The "CRC32 Checksum + File size" feature helps scan duplicate and identical pictures. The flexibility of the tools makes it worth using.
Features:
Easy to set up and use
Supports various file types
Quick and efficient
Preview before taking any action
Clears clutter
3) Awesome Duplicate Photo Finder
Piling up junk files makes the PC slower. Thus, it becomes challenging to handle. This software is a well-designed tool for managing clutters by cleaning up duplicate photos. Also, this helps users save a considerable amount of space on the system.
Features:
Consumes less memory
Compares resized and edited images
Helps spot similarities and differences
Supports various file formats
4) SearchMyFiles
This is also a quite impressive duplicate photo finder to detect and remove duplicate files. Nirsoft is the developer of this software. It comes with numerous filter options that allow users to search for data by size, content, date, and more
Features:
Less but effective functions
Accurate
Easy to operate
5) Wise Duplicate Finder
This software can be the right choice for users trying to find duplicate photo finder for their Windows PC. This software is ideal for both personal and professional purposes. It uses algorithms for effective functioning to free up space.
Features:
Fast
User-friendly
Supports multiple file formats
Backup and restore functions available
Manual as well as automatic removal
Releases space
6) Auslogics Duplicate File Finder
This is a software that can efficiently organize the digital media collections in the users' system. It can sort music, videos, photos, and many other documents to prevent the system from losing its optimization. It scans all the folders and helps detect duplicate files of different formats.
Features:
Selectivity
Efficient algorithms
Free of ads and other spyware
7) CCleaner
CCleaner from Piriform holds a good position among duplicate photo finder software. This software has the capability to find and remove duplicate files to maintain the standards of the digital library collection. The 'File Finder' option lets the users scan and point out duplicate files to discard them and free up a significant amount of space.
Features:
Well-designed interface
Easy to use
Can remove duplicate photos, videos, and other files
Sorting options available
Preview before deletion
Manageable scanning process
Read Also: Beat Making Software For All – Choose Your Favorite!
8) Visipics
This software holds a vital place in the market when it comes to finding and deleting duplicate photos. It can be easily useable by individuals as well as professionals. This duplicate photo finder has several exclusive features that help manage the files in the system. Thus, users can recover a large amount of storage space. Also, it supports various formats like RAW, JPEG, GIF, etc.
It mainly has three modes:
Strict – for almost identical photos
Basic – slightly different in result
Loose – files with more substantial differences
Features:
Quick
Convenient
Effective search option
Multiple modes
Provides tutorials
Auto Select option marks smaller files as duplicates
9) PictureEcho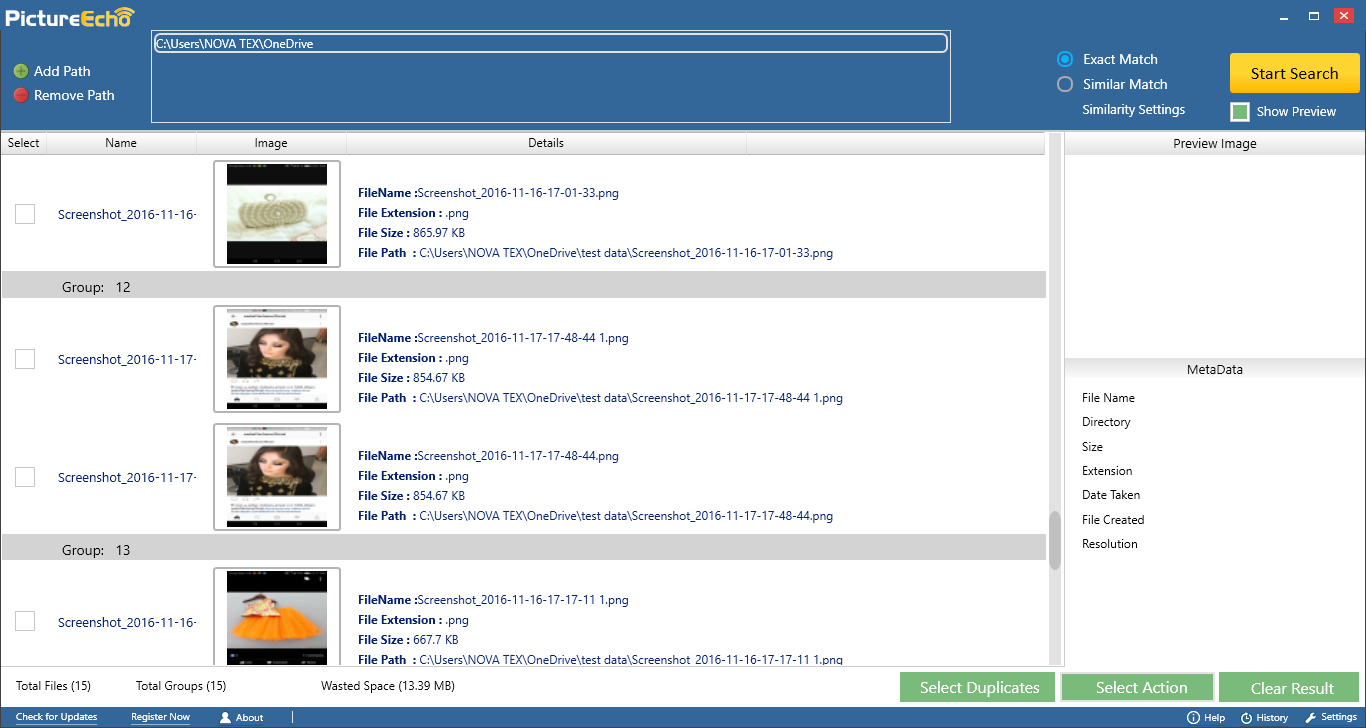 This software can be considered as one of the best duplicate photo finder and remover tool. It helps detect similar-looking pictures in just one click. The scanning process is quick and provides accurate results. The powerful options check the existence of duplicate files and optimize the system. Also, it is efficient for graphic designers or picture editors.
Features:
Modern but simple interface
Preview option
Find duplicates on the basis on content
Folder comparison
Supports various file formats
Compatible with Windows 10, 8.1, 8, and 7
Conclusion:
So this article was all about the best and highly efficient duplicate photo finder software. Thus, users get help to detect and remove unnecessary duplicate files from the system to help clean up the clutter. Also, it helps improve the performance of the system by clearing extra files that pile up and slow down the PC.
Some software have outstanding features that make the task even more comfortable. Also, the well-designed and straightforward interface is user-friendly. Thus, it becomes easy to use, even for beginners. Also, the functionalities make it capable of being used by professionals in the commercial world as well.